LWVGB Annual Business Meeting 2017
New Board Leads LWVGB Forward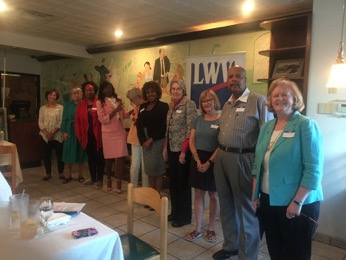 LWVGB Board of Directors, 2017-2018
Left to right: Dir. Maggie Howard, Dir. Nancy Sales, Dir. Maria Hawkins, Pres. Starr Culpepper, VP Leonette Slay, Secretary Mikesha Harvill, Treasurer Leslie O'Neil, Dir. Connie Arnwine, Dir. Tyrone Williams, Sr., and outgoing President. Jean Johnson


On Thursday, April 27, the League of Women Voters of Greater Birmingham looked toward the 2017-2018 league year at the organization's annual business meeting. At Nabeel's Cafe and Market in Homewood, members elected a new Board of Directors, set the budget for the coming year, changed bylaws, and readopted LWVGB issue positions.

New Board President Starr Culpepper is excited to assume leadership of the LWVGB. Following her election, she said, "The Alabama Senate Special Election Primary is coming up on August 15 and Birmingham Municipal Elections on August 22nd. Our League is educating citizens about the elections, registering them to vote, and encouraging active participation in democracy at all levels. We will continue to pursue this vital part of our mission." The LWVGB is also continuing to observe local government boards and agencies in the Greater Birmingham area. Culpepper continued, "The Greater Birmingham Observer Corps is a powerful tool for assuring government transparency and supporting the people's right to know."

The following members are elected to the LWVGB Board of Directors for 2017-2018:

Officers:
President Starr Culpepper
Vice President Leonette Slay
Secretary Mikesha Harvill
Treasurer Leslie O'Neil

Directors:
Connie Arnwine
Maria Hawkins
Margaret "Maggie" Howard *
Nancy Sales
Tyrone Williams, Sr.

* Margaret "Maggie" Howard was previously elected and is serving the second year of her term as LWVGB director. Outgoing President Jean Johnson was elected as chair of the Nominating Committee.


To read more about the business conducted by the LWVGB, see the Business Meeting booklet available to members.